Made in St. Louis:
Painter's works mix words, images, color, symbols
Ran on 9/25/2020
by Pat Eby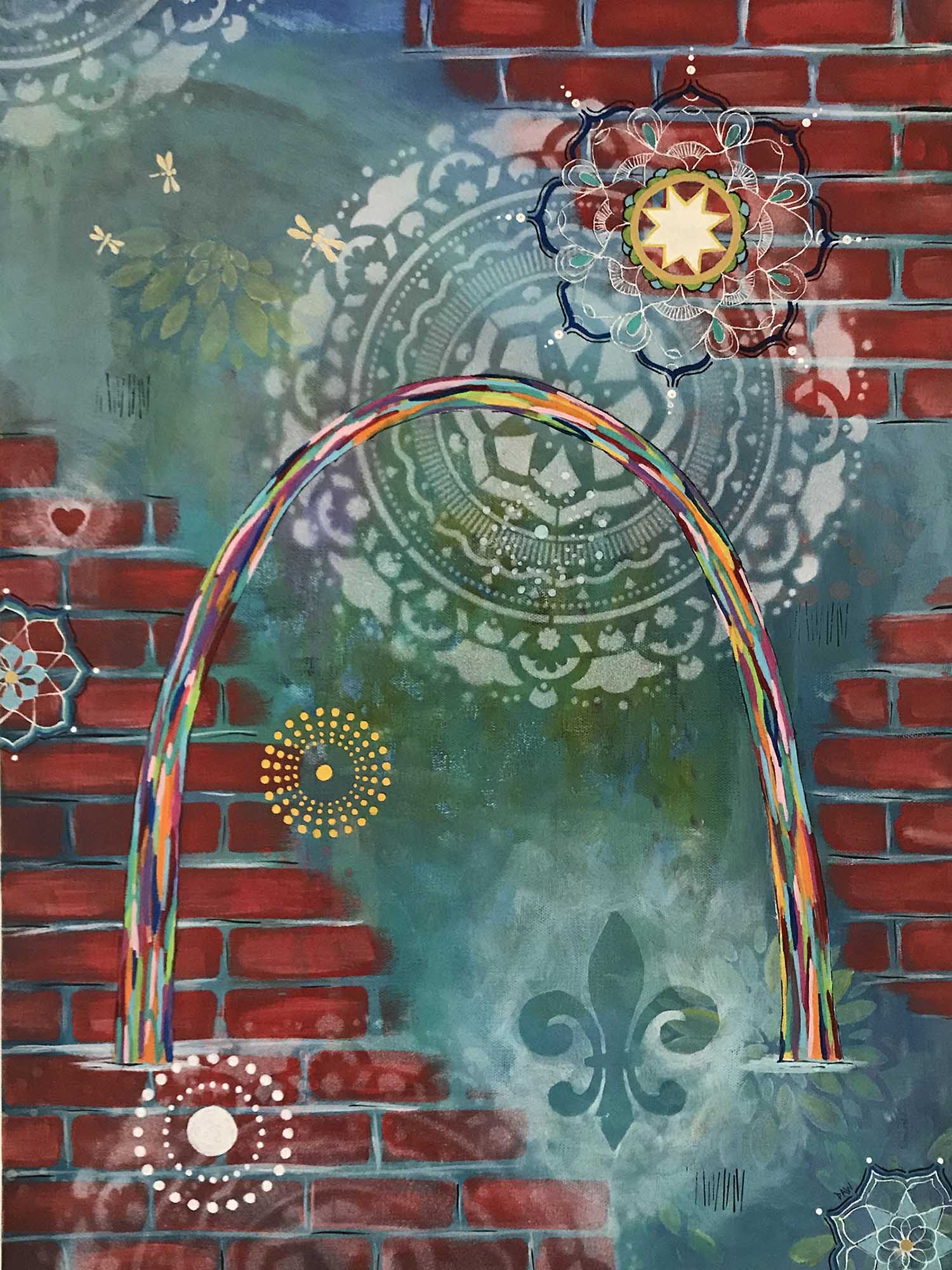 Peace in the Lou  uses the iconic brick of St. Louis homes as a background, a rainbow arch, the fleur de lis symbol of St. Louis, and mandalas of peace and harmony.
In Deborah Wingate's paintings, rainbow-colored trees shelter shrewd owls, trusty bikes and happy campers. Mandalas spin in colorful displays, meditations she makes visible for all to see. Words, maps, stamps and images sometimes ghost her painted backgrounds, the pentimenti of the spiritual and temporal explorations in her process. The whimsical paintings speak of playfulness, spontaneity and gracious humor, underpinned by the mindfulness she brings to each piece.
Roots • Wingate didn't start painting until she was in her 30s. "I had a friend when I lived in Ohio who started painting. She opened a little gallery in Yellow Springs," Wingate says. "I went to her classes where she would do a structured painting, and everyone would do something similar.
"At the time, I had trees on my mind. I'd doodle trees while I was on hold at work," she says. "One day the words 'Be strong in your roots; grow with the wind' popped into my head. So I went to the craft store, bought 99-cent craft paints, and painted my tree doodle, adding those words. There's a little owl in this one. That was over 10 years ago."
Leafy shadows and wise protectors • Sagacious owls live in Wingate's art, in colorful repose on a solitary branch. Eyes wide with wonder, they watch. Her art derives its energy in part from the vivid memories she keeps close, moments when life empowered her to move through fear to action.
"When I was in first or second grade I remember walking home from my Girl Scout meeting after school. It was dark early, and I was entering a long catwalk that cut through our block. There was a big dark tree, and in it, a white owl. I'd never seen a white owl before, and I thought 'that owl is protecting me.' Although I ran through there like I always did, I felt safe," she says.
A fair shot at love • Wingate moved to St. Louis in 2013 to be with her boyfriend, now husband. "My husband and I met in Ohio, and we did the long distance thing, and then I moved to St. Louis — for love. He's a lifelong St. Louisan. We both love it here," she says. "I find it super-heartwarming that he also loves my art."
Wingate added paintings of fleur-de-lis to her oeuvre, an homage to her adopted city. She sells them in prints, but also puts them on practical goods such as mugs, mirror compacts and garden flags.
Art as pleasure and business • Although Wingate works remotely full time in telecommunications, she makes time to develop her art and business. "In the beginning I just painted for myself. Friends, and my now-husband, then boyfriend, said 'You can definitely sell your work.'"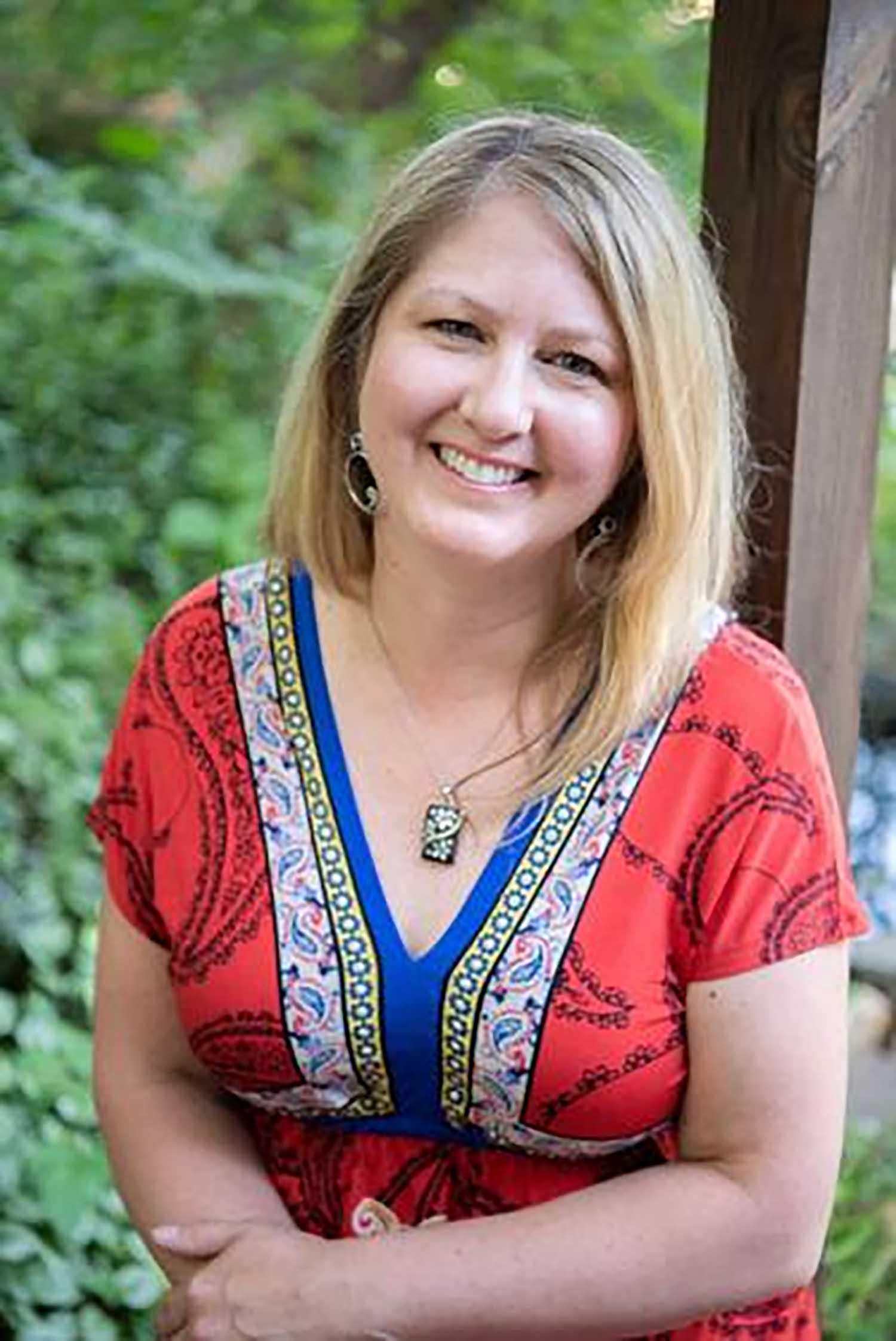 Portrait of Deborah Wingate. Photo by @ChristineBarkerPhotography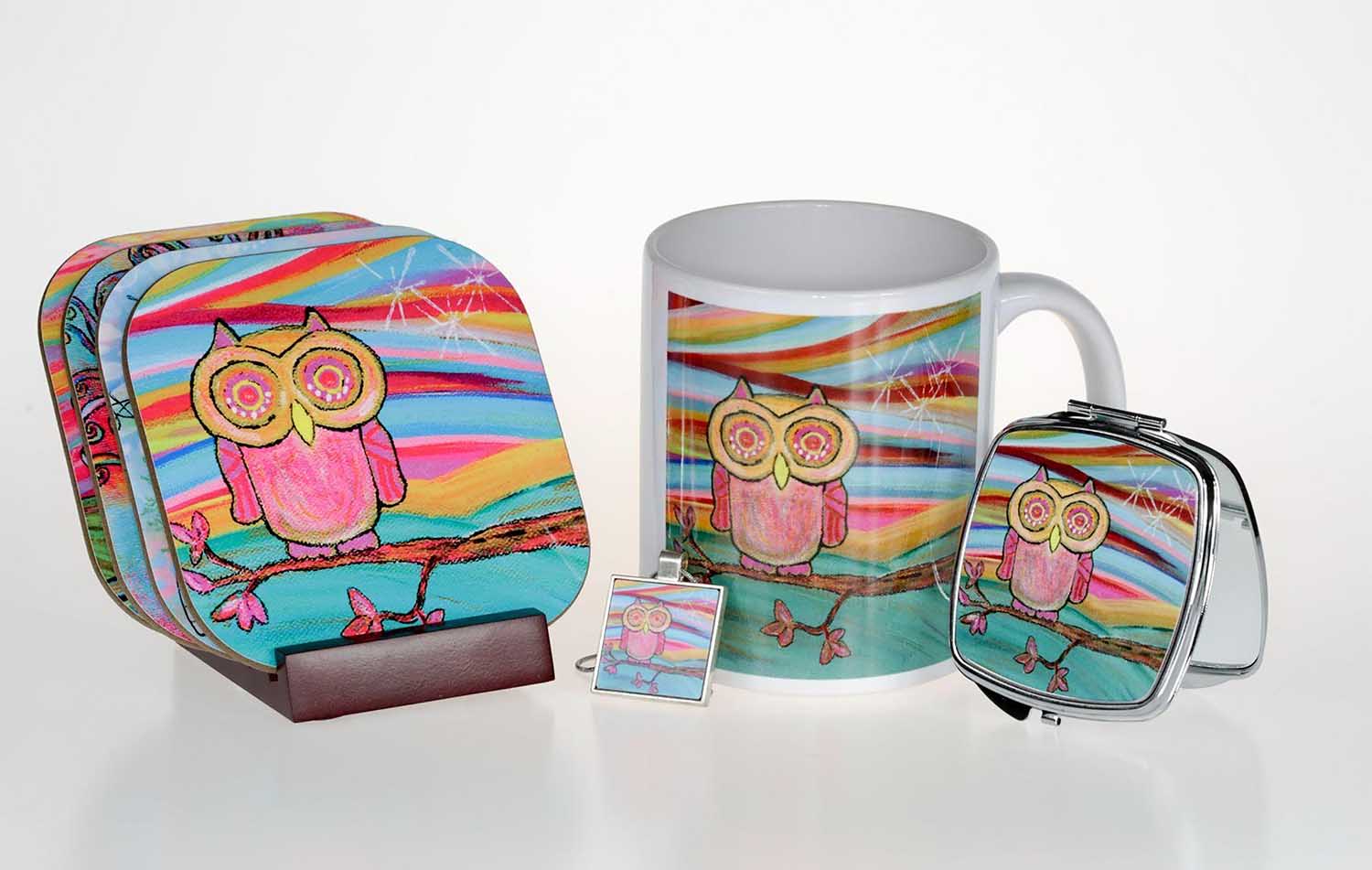 A collage of Wingate's watchful owls on coasters, a mug, a pendant, and a mirror compact.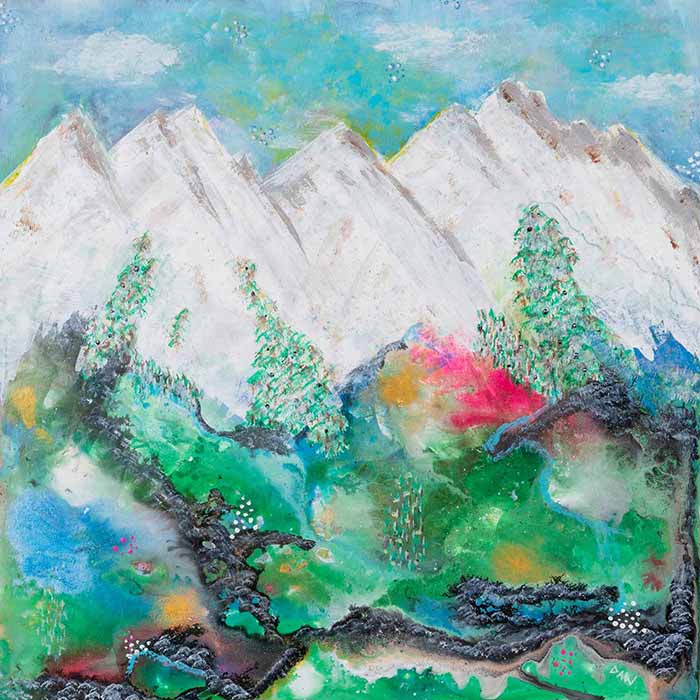 Mountain Wonder shows Wingate's interests in form, color, and texture in this piece.
Wingate applied to join the now-shuttered Create art incubator in University City. When she was selected to participate, she says the yearlong experience not only got her creative juices going but also taught her the business of art as well. The experience transformed her hobby into DebDragonfly Studio. "Dragonflies symbolize transformation and growth, and it seemed to fit," she says. "It's definitely been a good transformation for me.
"I want my art to bring smiles to peoples' faces, and bring joy into their home, whether it's on a coffee mug, a coaster or from a print hanging on their wall."
Explore and encourage • "If people have a desire to try something creative I think they should do it, even if it's something small. Making art takes you away from the everyday. You forget that you're anxious about work or the stresses of life," she says.
DebDragonfly Studio
Artist • Deborah Wingate
Age • 46
Family • Wingate is married to Jay Lipinski. She has one stepdaughter, Aggie Lipinski, who is at college in Arkansas. "We are owned by two cats, Max and Boots," she says.
Home • Clifton Heights
What she makes • Wingate creates original paintings and multimedia works, which she also makes into prints. She uses her original imagery on small works such as greeting cards, garden flags, coasters for the home and for the car, mugs, compact mirrors, holiday ornaments and more.
Where to buy • Wingate sells through her Etsy shop: etsy.com/shop/debdragonflystudio, at Artisans in the Loop, and at Urban Eats in Dutchtown.
How much • Wingate's prices range from $4 for her greeting cards, smaller pieces and prints are in the $15 to $25 range, and original paintings range from $75 to $500, depending on size.